Planting a large 'trithy'
**NOTE: This information is HISTORICAL. This species has not turned out to be successful in the UK. Mine survived for many years but went into slow decline despite being well protected in winter. Finally as a last resort I moved it to the drier area in the back garden, but to no avail. I'm currently pondering a few ideas re what to do with the stump. Great shame since as you can see it was a lovely plant.**
Well in 2006 I finally added the trithrinax campestris to my collection. Again purchased using a pre-order scheme, this time from Mulu. I did better than expected, I ordered and paid for a plant with 1m trunk (saving 25% already just by pre-ordering) but ended up being sent a specimen with at least 1.5m trunk! Another similarity with last year's pre-order jubaea was that the plant was about 3 months late arriving, but I've come to expect that :-)
Here are a few pictures taken during the planting process. You may notice some similarities in the preparation/planting procedure to the 'jub'! :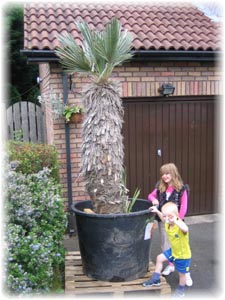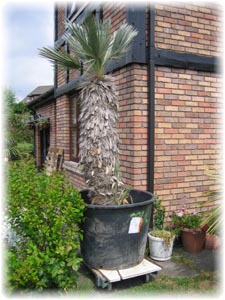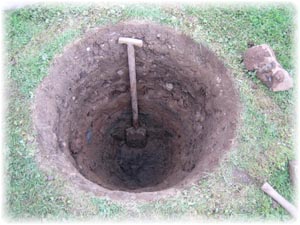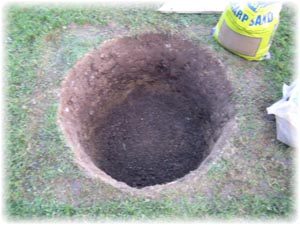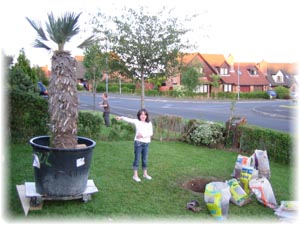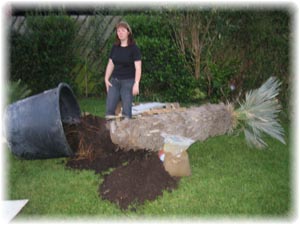 The procedure was refined a little this year by using a small trolley (borrowed from the church) to move the plant (boards were laid on the grass for this).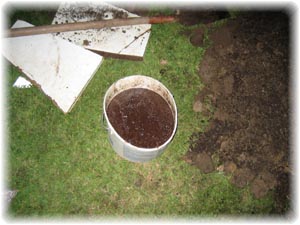 Another new addition - neem coir laced with superdrive!
(Better hurry up.... it's getting dark!)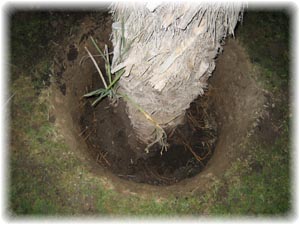 In it goes!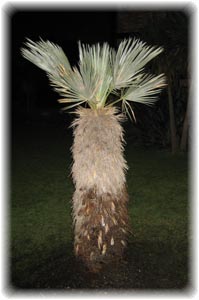 Final result, well watered in! 11.00pm, and still plenty of tidying-up to do!
Previous: Planting a large 'jub' Next: Our climate


About us Photos Church Satellite TV TV & radio Eagle Fellowship
Every Girl's Rally Palms & exotics Miscellaneous links
SIGN GUESTBOOK! View Guestbook Site history