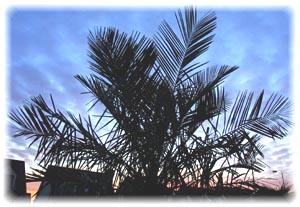 "My garden" - Chilean wine palm (jubaea chilensis) at sunset, Winter solstice, 21st December 2005, 4.00pm
My favourite time of year to go on holiday to warmer climes is definitely when it's autumn or winter at home. There's something very nice about leaving the cool, damp weather at home for warm weather, sunshine and palm-fringed beaches. Unfortunately though holiday only accounts for two or maybe three weeks out of the 52 in the average year, and it's sadly not possible to bring the warm weather home! However, wouldn't it be nice if we could at least grow some of those palms and other exotic plants in our own gardens?
Dream on, huh?
That's what I thought until around 1996, when I began to browse the Internet and having seen the huge amount of information available there, decided to find out a bit more about palms to see what their limits were. I was amazed at the number of sites on this subject, but it was the information on these sites which really astounded me. For instance:
Palms are NOT ALL tropical plants. True, many of the 3000 or so species require a tropical or subtropical climate, but many actually PREFER a TEMPERATE climate. One or two will survive ZERO DEGREES FAHRENHEIT (or MINUS 18 DEGREES CELSIUS!!!), or maybe even lower!!

Palms are already growing in these not-very-tropical climates:

British Columbia, Canada

East coast of the USA as far north as Washington DC and Cape Cod

British Isles (and not just the far south-west of the country)

Parts of Northern Europe including Germany and the Netherlands

Parts of Scandinavia (yes, really)

The Irish coasts are a particularly good place for growing these plants as they enjoy a very mild climate, mainly due to the Gulf Stream which also contributes to the even milder climate of the far south-west of Britain, especially the Scilly Isles.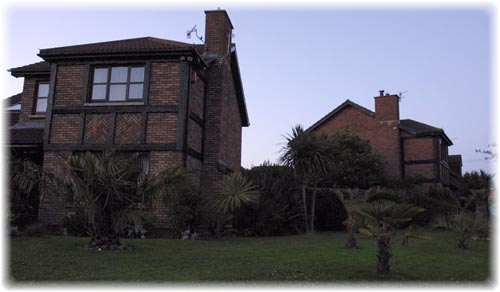 "Long summer evening" - My front garden, 26th June 2008, 10.30pm
The main factor (although not the only one!) determining what will grow is the Average Annual Minimum Temperature - the coldest temperature reached in the year, on average. The United States Department of Agriculture uses this factor to define its Plant Hardiness Zones, as follows:
| | | |
| --- | --- | --- |
| USDA Plant Hardiness Zone | Average Annual Minimum (°F) | Average Annual Minimum (°C) |
| 1 | < -50 | < -46 |
| 2 | -50 to -40 | -46 to -40 |
| 3 | -40 to -30 | -40 to -34 |
| 4 | -30 to -20 | -34 to -29 |
| 5 | -20 to -10 | -29 to -23 |
| 6 | -10 to 0 | -23 to -18 |
| 7 | 0 to 10 | -18 to -12 |
| 8 | 10 to 20 | -12 to -7 |
| 9 | 20 to 30 | -7 to -1 |
| 10 | 30 to 40 | -1 to 4 |
| 11 | >40 | >4 |
OK, there's one or two things you should know about this system:
Firstly, it was intended to be used for North America, where temperature variations are more extreme than in Britain (in other words many parts of the US have a basically mild or warm (and often dry) climate, but suffer brief spells with bitterly cold temperatures, while Britain has a basically cool, damp climate with relatively little variation from the seasonal norm). Looking at the table, Britain is almost entirely covered by zones 7 to 9. My area falls into zone 9, about the middle of it.

Secondly, Average Annual Minimum is not the only factor affecting plant hardiness. As I mentioned, zone 9 applies to the Irish coasts, but in North America it applies to Central Florida and Southern California. Now nobody is going to convince me that the palms and other exotics which grow there will also grow in Northern Ireland!! Other factors to consider are the number of hours of cold each winter, the amount of heat in the summer, and how wet the climate is.
So the reality is that many palms can survive short periods of extremely cold weather in dry climates, especially if the average winter temperature is relatively high. But the number of palms which can tolerate the cool, damp climate of Northwest Europe is more limited.
If you reckon you live in zone 6 or higher, there are at least a couple of palms which are worth trying. Of course the warmer the climate, the more possibilities there are. You can increase the number of species that can be grown if you are prepared to protect plants (e.g by wrapping them in blankets during cold spells). I do not intend to go into these topics here, but my palm links will hopefully direct you to such useful information.
My other pages in this section tend to be slightly biased towards suitable palms (and other exotics) for the British (and Irish) climate:
NEXT: A history of my involvement in exotic gardening
Suitable palms for the British climate
A guide to the climate in my area
More pictures of palms in N.Ireland
Exotic gardens in the British Isles

About us Photos Church Satellite TV TV & radio Eagle Fellowship
Every Girl's Rally Palms & exotics Miscellaneous links
SIGN GUESTBOOK! View Guestbook Site history