(Back garden)
PLEASE NOTE that any hardiness temperatures quoted are based on my own experience as well as on information obtained from other websites/growers..... they refer to mature plants and even then are absolutely NOT guaranteed - as I have found out the best way to determine if a particular plant will survive is to try it for myself - something I have found extremely rewarding!
Here are some pictures and info on the plants in my back garden. You can click the pics for a larger image (in a new window) - this may be necessary to see some of the smaller plants! Dates of planting in brackets.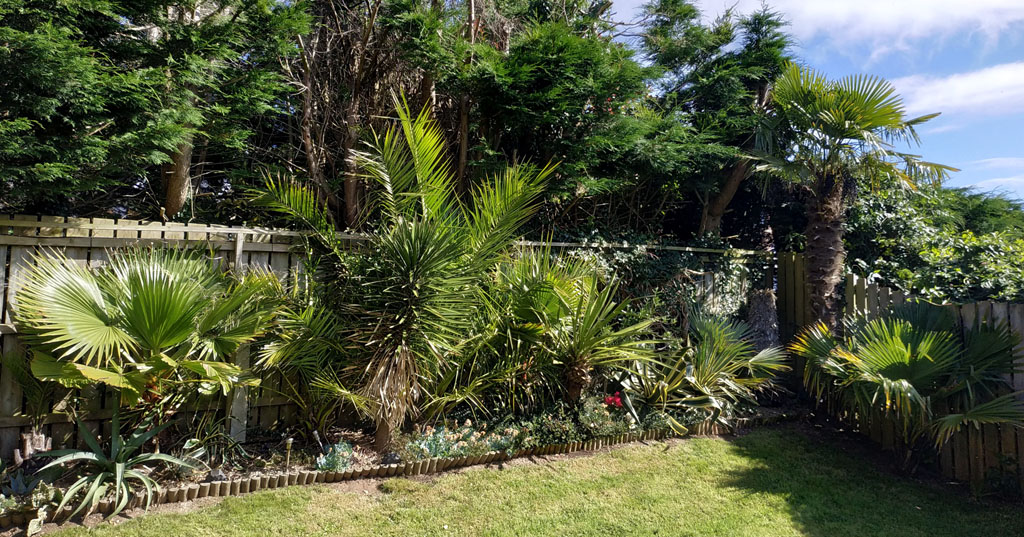 Back garden - photo 1, July 2019
Real mixture here; left to right: Butia capitata (moved from front garden and pretty much hidden in the above pic), washingtonia filibusta (2007), agave americana (2004), phoenix theophrastii (2004), Yucca filifera (2008), phoenix canariensis (2004), washingtonia robusta (2007), yucca carnerosana (2008), agave americana variegata (2004), olea europea, brahea armata (2004), large trachycarpus fortunei (1997), brahea edulis (2008).
Front: Opuntias, other agaves and echeverias (2004)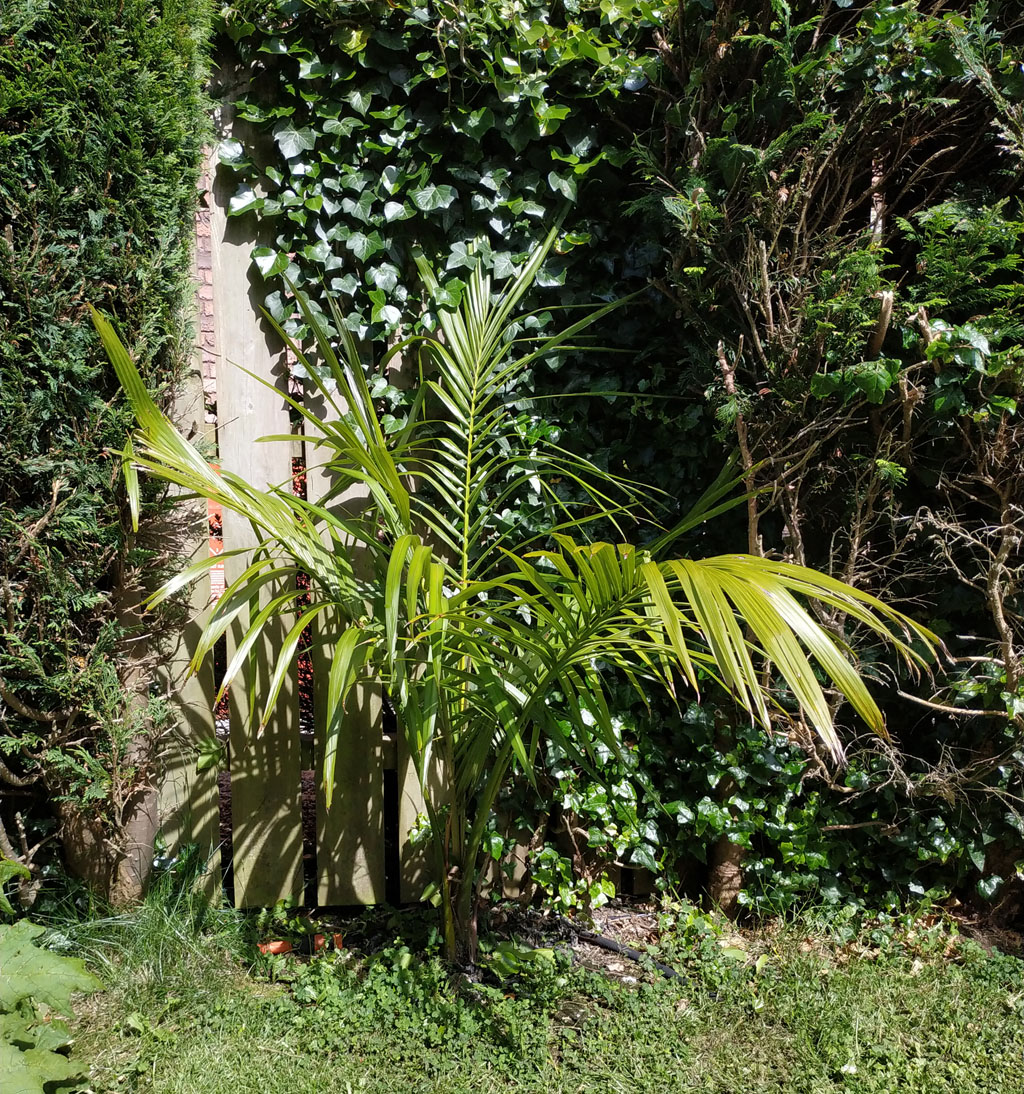 Back garden - photo 2, July 2019
Juania australis (2011).
Here are comments on some of the plants:
Sago 'palm' (cycas revoluta)
Now reckoned to be hardier than first thought, maybe to -7C/19F. Has done ok since planting. New leaves are like hen's teeth, but the old ones seem to last for ages.
Washingtonia filibusta
Cross between w.filifera and w.filibusta. Supposed to incorporate the best qualities of each, which would mean hardiness to maybe -10C/14F and moisture tolerance too!
Cretan date palm (phoenix theophrastii)
Supposed to be the hardiest phoenix, being thought to be marginally hardier than p.canariensis. Has done quite well so far.
Canary Island date palm (phoenix canariensis)
Lots of people have been planting these in N.Ireland over the last 3-5 years, they are now not considered hardy here in all but the most extreme coastal areas, mine has some overhead cover.
Mexican fan palm (washingtonia robusta)
Supposedly not as hardy as w.filifera, but more tolerant of moisture.
Bermuda fan palm (sabal bermudana)
Despite its tropical origins (clue is in the Latin name), this is supposed to be hardy to -10C/14F. Grows very slowly indeed, but this has not been a problem so far since the old leaves seem to last for ages.
Dukou cycad (cycas panzhihauensis)
Supposed to be hardiest cycad. Doing ok so far despite being very small.
Mexican blue hesper palm (brahea armata)
Supposed to be hardy to -10C/14F, but needs really good drainage. The area in my back garden on the grass bank is very dry, warm and sunny, so appeared to be a suitable site. Doing quite well so far.
Lady palm (rhapis excelsa)
Needs no introduction as a house plant! But it also has a degree of hardiness, taking maybe -4C/25F. I'm hoping that its shady, sheltered location with lots of overhead cover (and a bit of winter protection too!) will help.
Guadaloupe palm (brahea edulis)
The greener, faster (supposedly) and slightly less hardy sibling of b.armata. Another N.Ireland grower reports great success, so I guess I had to try it!
Dicksonia antarctica
My first d.antarctica grew happily for several years but fell victim to the December 2000 cold snap. The plant in the photo is its replacement, planted in 2001.
Castor oil plant (fatsia japonica)
Should be fully hardy here, mine was moved due to its previous location being too dry, warm and sunny. It was about to give up the ghost but now seems to be growing on quite well.
Rheum palmatum - ornamental rhubarb (not edible)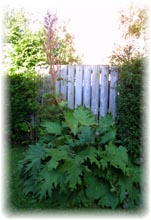 Rheum palmatum, showing the remains of the huge spring flower stalk
Comments: No problems. Note that this plant dies right back in late October / November only to sprout huge leaves and plumes in April / May.
Previous: Upper front garden Next: Side garden


About us Photos Church Satellite TV TV & radio Eagle Fellowship
Every Girl's Rally Palms & exotics Miscellaneous links
SIGN GUESTBOOK! View Guestbook Site history